Date/Time
Date(s) - 20/04/2019
20:30 - 23:30
Location
Cultuurschuur
Category(ies)
DE THUNDERBIRDS 60-70 JAREN
Zaterdagavond 20 april 2019
Zaal open: 20.30 uur
Entree: € 7,= inclusief de koffie
Aanmelden: info@cultuurschuur.nl (gewenst niet verplicht)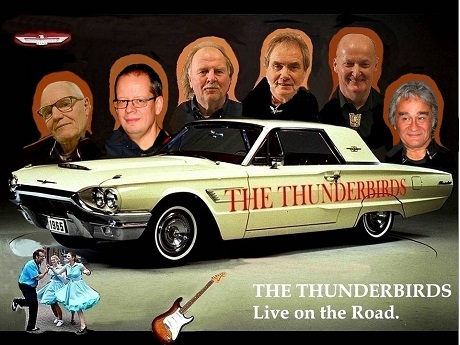 The Thunderbirds Live on the Road.
De formatie The Thunderbirds is ontstaan in het begin van de jaren zeventig, De grondlegger van de band is Rob Innemee, die sinds jaar en dag de bas bespeelt,The Thunderbirds hebben in meer dan dertig jaar van hun bestaan, op alle gerenommeerde podia opgetreden. Met vele bekende nationale en internationale sixties bands, maar ook als begeleidingsband van diverse grote zangers en zangeressen. Eén van de hoogtepunten was het begeleiden van de bekende Nederlandse Roy Orbison vertolker Ad Swart bij een optreden voor de Belgische tv-zender VTM.
De band is in de loop der jaren een aantal malen van samenstelling veranderd en heeft verschillende facelifts en verbeteringen ondergaan. Met veel uithoudingsvermogen en passie voor de muziek heeft bassist en oprichter Rob Innemee The Thunderbirds tot op de dag van vandaag in stand gehouden.
The Thunderbirds bestaan nu uit:Rob Innemee Bas/Vocals, Ton Adams Lead Vocals, Paul Munck Leadguitar, Ton Beckers Drums, Bart Bartstra Keyboards, Ben Bouman Rythmguitar en Michiel Bouwmeester Sound Engineer.Stuk voor stuk zijn het zeer ervaren muzikanten met een lange staat van dienst. Ze spelen muziek in de sfeer van de jaren 60 en 70, zoals Rock'n Roll, Country,en Indo-rock. Op het repertoire staan nummers van Elvis, Chuck Berry, Buddy Holly, Creedence enz,en instrumentale nummers van de The Shadows en andere. Breng is een bezoekje aan onze website.