Date/Time
Date(s) - 22/04/2018
Hele dag
Location
Cultuurschuur
Category(ies)
Zie: http://www.cultuurschuur.nl     en   http://home.kpn.nl/gijslemmen/
LEMMEN&CO GITAARMUZIEK OP HOOG NIVEAU
Zondagmiddag 22 APRIL 2018
Aanvang: 16.00 uur
Entree: € 7,= inclusief de koffie
Aanmelden:  info@cultuurschuur.nl (gewenst, niet verplicht)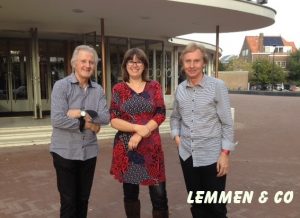 Gitarist Gijs Lemmen en de twee begeleidende muzikanten Elly Swets (basgitaar) en
Wim Klein (drums) vormen het trio "LEMMEN & CO" .
Ieder jaar wordt een "gitaristisch" theater- programma gebracht in luistersfeer, waarbij veelal een extra muzikale gast wordt ontvangen in het programma. In het seizoen 2018 brengt het trio een mix van instrumentale gitaarfavorieten uit de jaren 40, 50 & 60. Van Finger-picking, naar Surf-tunes via Twang  & Swing naar de Boogie.  En natuurlijk passeren de meesterlijke gitaristen Les Paul, DjangoReinhardt en Jimmy Bryant allen de revue. Niet verwonderlijk dat in het programma een "Tribute To Hank Marvin"  (van The Shadows) is opgenomen. En als het over 'gitaarspelen' gaat, dan mag ook een eerbetoon aan de legendarische gitarist Chet Atkins niet ontbreken.
"LEMMEN & CO"  is als luisterprogramma bij uitstek geschikt voor gitaarliefhebbers.